An Informed Homeowner is a Prepared Homeowner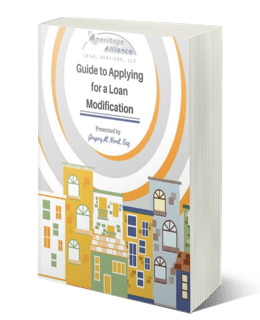 This free E-book takes you step-by-step through the process of applying for a loan modification.
In this eBook you will learn:
How to Apply for a Loan Modification
What documents are needed for a loan modification
How to follow up with your bank to get an answer
and much, much more!
Loan modifications may be one of the hardest things to get approved without the assistance of an experienced attorney, however many homeowners choose to apply on their own. Amerihope Alliance Legal Services provides this guide with hopes that homeowners will be more prepared during this process.
You can do-it-yourself certainly, but you will have a higher rate of success with an experienced foreclosure defense attorney.
Note to Homeowners in Foreclosure
If you are in foreclosure, you are urged to have a consultation with a foreclosure defense attorney to represent you. Applying for a loan modification does not stop the foreclosure process.